Ladies, the moment you've been waiting for is finally here! The summer hit movie Magic Mike is finally available on Dvd and Blu-Ray and you can snag it for less at Amazon for a limited time. Plan a night with the girls, pick up a bottle or three of wine and get ready to drool at this movie.
You have two options: a regular DVD version and a Blu-Ray version. The Blu-Ray is 38% off at $24.99 and the DVD version is 41% off at $18.99.
Buy the Blu-Ray version here at Amazon.
Expires: Not Provided
Buy the DVD version here at Amazon.
Expires: Not Provided
I saw this movie when it first came out and honestly, besides the obvious fact that it's a movie about male strippers and that they actually do strip in the movie, there's not much of a storyline (IMHO).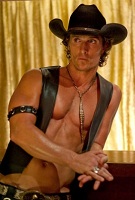 Don't expect some epic tale of how a boy meets a girl; the movie really is just good for one thing and that's for the amount of boys and dancing that they do.
Plus, Matthew Mcconaughey is in this movie and can actually keep up with the rest of the younger cast. That has to be a 100x bonus, right there.
If you're interested in making this your next movie at your girl's night–or men, if you want to make the lady in your life happy–it ships for free from Amazon when you spend $25 or more.