It's not always obvious where you can find coupons–even if you have studying my guide on where to find coupons down to the letter– and it's still possible to miss even the biggest ones. Each year, there's a gigantic Entertainment Book released that's filled to the brim with coupons that you can tear out. Right now, you can pick up one of these books for your area and get it for only $29.99.
Find out more and get your Entertainment Book here
Expires: 11th October, 2012 (at midnight)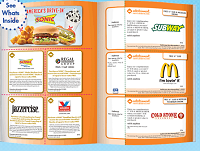 I'm a native of Montreal so obviously the first book that I wanted to check was my local area and, after I pulled my jaw up from the floor, discovered that I could save over $7,457 with this one book. With 241 restaurant coupons and 86 attraction discounts, for starters, there's something for everyone! There's everything in this book; from big name brands to the tiny, local stores that all the locals love.
During this flash sale, the Montreal book drops from $35 to $29.99 and you get free shipping. All the coupons are valid until November 2013, so there's more than enough time to take advantage of this ridiculous pile of epic savings.
We would love some feedback, has anyone used or ordered one of these books before? What did you think?