A few weeks ago, I had wrote about how I got a Kobo eReader. Since then, I have been heavily addicted to the Kobobooks site and have been checking their selection almost daily. Our very own Kobobooks coupon page should be the next step before you buy your new ebook, on that note I saw that Anne had added new codes to save up to 30% off on select titles a couple of days ago and as this is a long weekend you may want to use one now to wile away the time with a book before heading back to work.
There are two codes, both for different sections of the site.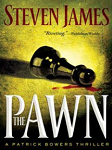 There's plenty of romance novels in the bestseller section if you're looking to fill the void left when you finished reading 50 Shades of Grey.
I went on the hunt for a good fiction novel and I discovered The Pawn by Steven James. The storyline is somewhat similar to the first season of Dexter, where he's being left clues by a serial killer that's always one step ahead of the law. It's a crime novel, but it seems to go in a different direction than most.
The book is already reduced to $6.15 and, since it's a bestseller the 25% can be applied to make it go down to $5.23. For the chance to read a good book, I'll take it.