It's still not too late to file your taxes for 2011 and it's never too late to save with some of the codes listed on our H&R Block Canada page. Pick up the software from this leading in tax-saving solutions and save 20% off with this VC Exclusive. Guaranteed to give you the maximum refund, you can get back to saving money for that dream vacation of yours in no-time.
I'll be the first to say that I get easily confused when it comes to filling out my taxes and that I spend most of my time scratching my head.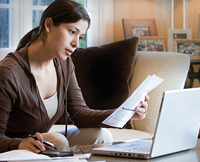 The software takes the guess-work out of and helps you understand fully what you're doing and where to input key numbers. It allows up to 16 returns for yourself and others, as well it's lets you do tax returns on other tax forms such as rental properties.
It's currently $29.99 and, after you use our exclusive, it drops down to $23.99. It also comes with a bonus book called "Canadian Tax tips for Dummies" as well as free audit assistance if you need it. Not a bad deal!
Let us know what you think about this software!