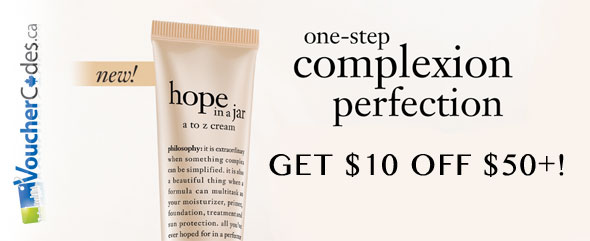 When it comes to beauty routines and essentials, quality is definitely worth investing for. Better yet, shop at Philosophy.com and enjoy $10 off purchases over $50! But hurry, this truly incredible offer will only last a couple of days.
In case you read this after the code has expired, be sure to check out our Philosophy page for their hottest and most up-to-date promotions.

Just with it's name: Hope in a Jar, the intense retexturizing moisturizer on the left is certain to lift everything from spirits to facial skin! Featuring an innovative qusome delivery system that enhances efficacy, this gentle cream works to smooth out lines and is less likely to aggravate skin (especially for those with sensitive skin) as it is formulated with gradual release technology to minimize the potential for irritation.

On the other end of the spectrum, the pure grace whipped body crème is the kind of moisturizer that you simply won't be able to put down because of its luxurious texture! Plus, there are plenty of positive reviews to further convince you to try this product out and really, with the above discount, why wouldn't you?
I have already added these two creams to my basket. Have you?