Home decorating is one of those projects that definitely can't be accomplished all in one sitting. The best way to get a truly homey feel is by taking time to shop around for the best pieces that suit your family's style — even if this can often take years to achieve. Luckily, stores such as Overstock offer a combination of great choice with plenty of opportunities to save. In fact, on top of offering plenty of sales such as up to 30% off select living room furniture, area rugs, art gallery items and much more, new customers can also save up to $55!
A list of all the ways to save at Overstock is available here.
Shop at Overstock
Expires: 30th August 2013
Personally, I will most definitely be investing in the 'Four Seasons' canvas art displayed below. On sale for just $158.88, this stunning set features hand-painted detailing depicting –you guessed it– the four seasons from winter to fall with summer and spring in between. Reviewers have even praised this canvas art for the details that can't be viewed online and that are very apparent once the panels are hung on the wall — meaning that it basically looks vastly better in person.
However, this is only one of countless other spectacular pieces of art that would be appropriate in just about any room and home.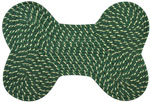 Likewise, they have no shortage of original rugs either. Just take the dog bone rug for example. Although it's best suited as a placemat for bowls as it's not particularly large, this rug's braided composition ensures resistance to stains.
Home decorating can be expensive. Share with us on our Forum how you save!