Compromising quality to save during a vacation sure has a way of backfiring at times. Don't risk it! Book instead with Orbitz and save 15% off their best hotel deals for increased peace of mind in Las Vegas, Orlando, New York, DC, Chicago, Los Angeles, San Diego, or Miami.
Tweet us @CouponsCanada your ideal vacation location.
Book by May 26h and travel by July 31st 2013 to save! For more deals and discounts, visit our page of Orbitz's latest coupons and deals.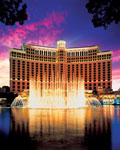 As the backdrop for countless movies such as Ocean's Eleven, What Happens in Vegas and most notably, The Hangover, the Bellagio hotel and resort is also home to Cirque du Soleil's "O". With rooms starting at $159, sleep the day away after enjoying the Las Vegas Strip all night.
Plan your stay in conjunction with all of the upcoming shows and events by visiting the official website for Las Vegas.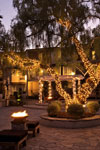 If your travel dreams have been comprising of the City of Dreams (Los Angeles) instead, then book at The Belamar Hotel in Manhattan Beach with prices starting at $152. With more than 130 reviews providing this lovely hotel with 4.2 out of 5 stars, it's definitely a stay worth considering, especially since it's close to the beach as well as LAX airport. The bikers out there will be happy to know that this hotel even offers complimentary free bikes to be used during the day!
Where will your travels be taking you?