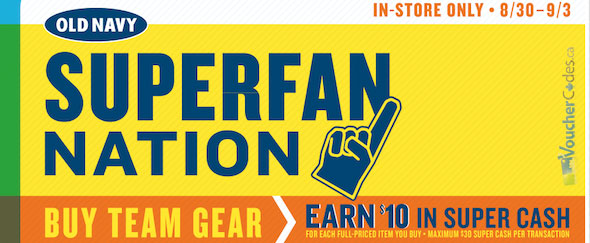 There are two promotions going on at Old Navy Canada that are definitely worthy of your attention. The first one is a 25% off coupon code, which is available below, that can be used at oldnavy.ca during the labour day weekend. It is applicable on all orders.
The second promotion that I wanted to let you know about, is a limited time offer that will enable you to earn Old Navy Super Cash with your purchase. Simply buy 'team gear' available at any Old Navy store before September 4th. This way you will get $10 in Super Cash for every $25 you spend on qualifying items. Note that the maximum amount of Super Cash you can receive is $30. You can then redeem your cash between September 7th and 12th.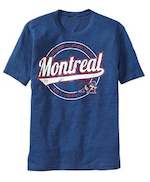 To find out what kind of team gear is available at Old Navy, go to the 'Super Fan Nation' section on their website. They have tees from the CFL, NBA and MLB.
Are you following the Canadian Football league this year? Normally I don't, apart from the Grey Cup final of course. I had no idea how my team (Montreal Alouettes) was doing this season so I had a look at the stats and they are first in the East division. Awesome! The British Columbia Lions are first of the West division but it's still just the middle of the season, so things can change.