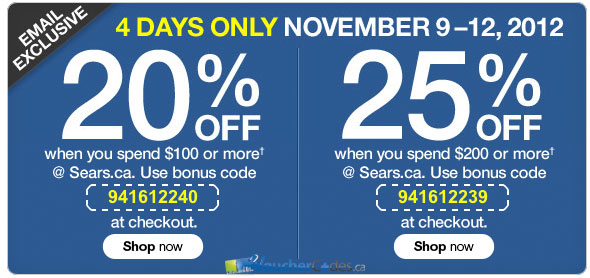 Leading up to one of the biggest shopping seasons of the year (if not THE biggest) Sears.ca has released a couple of new coupons to entice us shopaholics to begin crossing off items on our shopping lists that little bit earlier. Their strategy –and it's a good one– is to lure us with 2 coupons (online only I'm afraid). The first is 25% off orders over $200, and the second (and probably the most applicable for the old holiday shopping gift list, unless you're super generous) offers for 20% orders over $100. I just finished adding these codes to our Sears.ca page, but I also listed these limited time offers below so you can grab them and go. But don't finish there, keep reading for even more discounts (seriously….keep reading).

The funny thing is that I actually nearly missed another part of this weekend's Sears deals, and that's just not like me. If you are a visual person, you will probably have already seen the image above and noted that this weekend only (same dates as the coupon validity) customers will also get bonus Sears Club TM points, but only when using a Sears Financial TM credit card. I used to have one before I realized that I had way too many cards to manage. So I consolidated all of them and now only have one card. Although I do miss the savings and points from Sears and the Bay.
But wait… the coupons and the points are all ON TOP of a huge sale at Sears.ca in what they are billing as their "3-Day Sale", where items are up to 50% off the regular price. I think this weekend will be the best time to shop at Sears this side of the Black Friday weekend.