If you've never bought anything from Threadless before, it is now the perfect time to give them a chance. We have here a coupon code for all new customers to get 40% off their first purchase. The code is valid until the 15th of October so it gives shoppers time to share the good news with friends and family too.
The deal is only valid on tees and hoodies though, but don't worry as these are their main products and there is a wide selection to choose from.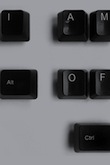 For everyone who didn't know, Threadless are working with artists from everywhere in the world to create unique designs. People can vote for their favourite designs and even submit one that they did themselves, which means you could be one of these artists. This t-shirt (in the image) is a good example of a funny one I think.
If you want to see more fun tees, check this other great article on Boredpanda about creative t-shirts.