In the last couple of months, we have focused a lot on clothing and especially the launch of our new forum (which everyone is certainly encouraged to sign up for!), but don't worry, we definitely haven't forgotten jewelry. In fact, we have yet another incredible VoucherCodes.ca Exclusive for you: this time in the form of a whopping 20% off all orders at MyJewelryBox.com!
As usual, we have also added this VC Exclusive to our list of coupons and promotions for MyJewelryBox.com.

Ladies, is your significant other taking too long to pop the much anticipated question? The time of sitting back and anxiously waiting for that proposal to come is long overdue and I urge you to take initiative instead by showing this post to him or her. After all, wouldn't the diamond engagement ring look absolutely wonderful in all its sparkling glory on your finger?
And considering sale prices are the best way to shop, anyone looking for an engagement ring should seriously consider the fact that while this ring retails at $700 because it's actually an engagement and wedding band set made of 10K white gold, it can be acquired for just $269!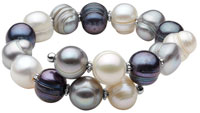 For those still looking for Mister or Miss Right, there is absolutely nothing wrong with getting quality jewelry for yourself. After all, why spend your hard earned money on plastic jewelry that you know will break that same week? Go instead with real jewelry, such as the beautiful multicolor freshwater pearl bracelet reduced to $49.99 down from its usual price of $120.
Comment below with your favorite pieces from MyJewelryBox.com!