Are you still missing that tune to jam out to as you go about your daily activities? In between marathon-ing multiple playlists on Songza and refreshing Facebook, I noticed a nifty code on our Pacsun coupon page for even more free music, I only wish it didn't have a purchase stipulation, but it's better than nothing.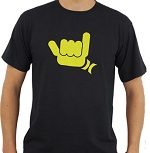 If you're a fan of Hurley's clothing, then you're in luck. Shop the brand for both men and women and you'll be eligible for a free music download card that contains music like:
The Used
Polar Bear Club
Suedehead
Hindu Pirates
All you need to do is input this code and it will be added to your cart. There's no minimum either so if you'd like to buy just one item, go ahead! There's a flat fee of $9.95 for shipping on all orders for Canada.