Your computer is an investment; for your personal use or for your job, it's important to keep it running smoothly for the years to come. Our friends over at Raxco want to give you the chance to save on software to optimize your computer and are giving you the chance to snag a geek-worthy vouchercodes.ca exclusive. For a limited time, you can save 25% off all software for your home or business.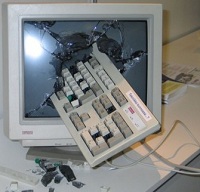 Granted, if you're computer is broken like this example, no number of Raxco coupons could help!
With Windows 8 support recently released, the Perfect Disk solutions offer you a variety of options from defragmentation to a registry checker. A slow computer is a boring computer and ineffective for even the basic tasks and, with the products Raxco is offering, you can make sure yours runs as smoothly as possible.
Most of the products come with a free trial option if you rather go for a test run before you buy (I'm a huge fan of try before you buy, only companies that have confidence with service offer this). There's also an added option to buy a 1-year maintenance package, which comes with technical support and upgrade protection if another version gets released.
Have you tried anything from Raxco before? Let us know!