If you are getting bored of always going to the same clothes stores all the time and you want a different destination for clothes, you might want to check out the stock at Jacob online. We even have our own dedicated Jacob Canada page that we keep updated with all the best offers. The most recent one is an extra 40% off summer sale items.
Visit Jacob and find out more
Expires: Not provided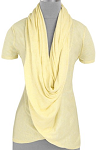 Just because the items are marked as summer items, doesn't necessarily mean that they are only wearable during that season. The shawl cardigan linked on the right–which you can also find here online— is perfect for multiple times during the year. It can be used during the summer to cover up when you're wearing a dress or could be worn in the winter when you're in class or at work. It's also currently $20.99.
Shipping is free on orders over $100; otherwise it's a flat fee of $9.