Reminiscent of good times spent by the water, summer's fast approach means that the time has also come for a closet revamping and Lands' End is a great place to shop for the entire family because of its affordability. To reap even more savings, take advantage of the promotion below to save 30% off site-wide!
Since beach towels are a must of summer and can even be used all year-long at indoor public pools, the time has come for you to invest in a couple of wonderfully designed ones.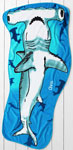 Tweet us @CouponsCanada your favorite towel!
Any kid is sure to love the hammerhead beach towel and not only because of the print, but also because of its softness — 100% cotton! It can even be monogrammed with your child's name to make sure that no one else takes it or "borrows" it indefinitely.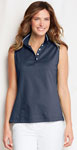 Sleeves are so last year. Instead, stay cool this summer with the sleeveless polka dot polo, available in turquoise, emerald, pink or navy. Though collar-poppin' is cool in some instances, maybe keep it down if you're going for lunch at a nice restaurant… otherwise, collar pop away!
For a more unique kind of look, the pleated placket polo will make any outfit stand out. Even better is that it's "soft as the hair of an angel" thanks to it being made of hand-picked Peruvian pima cotton.