With their Warehouse Event behind them, Land's End are rewarding their customers with an additional 30% off everything during the Friends and Family sale. This limited time discount is even applicable to sale items, where loads of cold weather apparel and accessories are available for a fraction of the cost!
As usual we have also added the fabulous code below to our Land's End page of their best discounts.

Canadian weather definitely doesn't have any shortages of snow and so, be prepared this winter with the Powder Belle Booties. I found these cuties in the sale section for just $37.91 instead of $97.42! On top of being water resistant, they're also sure to prevent the dreaded slipping on ice and will surely make you feel as though you're walking on a cloud with their cushion-comfort EVA footbed.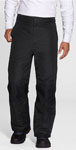 With winter right around the corner, I'm sure that many of you will be shopping for snow gear either for skiing, snowboarding or perhaps even the annual family tubing day and the men's Squall snow pants are definitely not a deal to be missed. Reduced to $27.33, they're waterproof, wind-resistance and best of all, lightweight — perfect for jsut about any winter activity or perhaps even for that daily evening stroll after supper.
What kind of winter gear are you still in need of?