Whether through a new perfume, makeup, skincare or anything else, it's nice to treat yourself every once in a while. For a very limited time, shop Lancome's selection of products and enjoy 15% off all orders!
Alternatively, we have also added a handy code to get a free 7-piece gift on purchases over $50 on our Lancome page. Since these codes are frequently released, the best way to stay up-to-date is with that page!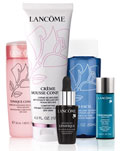 Let's face it, Lancome's products have definitely stood the test of time and quality throughout the years and have emerged victorious as one of the best out there. When it comes to beauty products, you definitely get what you pay for and in most cases, a good investment can definitely make all the difference. If you haven't already, try the crème mousse confort set for less with the above discount and share with us below just how much your skin improves!
At $35 (est. value of $106), it includes: Bi-Facil make-up remover, Crème Mousse Confort cleanser, Tonique Radiance exfoliating toner, Visionnaire Advanced Skin Corrector and Advanced Génifique youth activating concentrate.

Endorsed by Julia Roberts, La Vie Est Belle Eau Légère features the elegance of Iris, which becomes the backbone of the fragrance and blossoms from the first to the last note like never before. Interestingly enough, it is also neither a perfume nor an eau de toilette, but rather an interesting combination of the two, just waiting for you to make it your own!