The Lady Gaga's black fragrance Fame is one of the most buzzed-about beauty products of 2012 for 2 reasons; it's the star's first fragrance ever and it is black–which is out of the norm. Don't worry it sprays clear and not black–that would be special! And you can now buy it at Sephora. But that's not all.
I'm also taking this opportunity to let you know about the latest coupon code for sephora.com. This time you can get a free Too faced's compact bronzer with your online order, you don't need to purchase the Lady Gaga fragrance to claim this. Just make sure to enter the below code in the appropriate space. Sephora releases coupons for a free product with purchase frequently, you can get them all and more at our Sephora promotions page.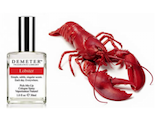 I thought that the idea of a black fragrance was special, but coming from Lady Gaga how could we expect anything else? So I did some research on the web to find out about other weird perfumes…And I can tell you that this is not the weirdest.
If you want to have a good laugh and also make some 'isshhhhhh' noises, you absolutely need to go and check this post on top 10 most bizarre fragrances.