When was the last time you measured your bra size? Whether too long ago to remember or perhaps even never, measuring your bust is an absolutely important component of daily comfort and in fact, is something you should be doing every once in a while because let's face it, we don't always stay at the same weight! So go ahead, measure yourself and then treat yourself to something new from La Senza as a reward! Even better, save 20% off orders over $50, 30% off $75+ or an incredible 40% off orders over $100!
Are you a fan of La Senza? Rate their store here!
Just recently, I stopped my usual channel surfing to catch a portion of Bethenny's talk show. For those who don't know, Bethenny is a natural foods chef, the founder of the Skinnygirl Margarita as well as one of the former members of The Real Housewives of New York City.

To get back on topic though, on the segment that I happened to fall on, there was an entire demonstration on how wearing comfy clothes to lounge around at home doesn't have to mean putting on your boyfriend's clothes or your own frumpy dumpy looking ones. Instead, you can dress girly and still remain comfy, which is exactly what the cami on the right can help to achieve. Already reduced to $9.75, it features a lace top and most importantly: it looks sexy all the while retaining a sexiness that your significant other will surely appreciate!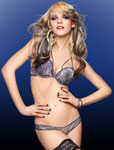 From La Senza's newer collection on the other hand, the Beyond Sexy push-up bra in sharkskin grey is sure to add the much needed oomph to any outfit, especially since we all know that it's important to feel as great on the outside as it is on the inside!
From a different collection, the Show Off push up bra is also worth considering as it can be worn either as a regular bra or with a racerback (particularly helpful with certain shirts to hide the straps).
When was the last time you treated yourself to something sexy?