There are a few things in life that automatically catch my interest: sparkles, cute dogs and the words "Clearance sales". Every girl needs a fancy pair of underwear or two and right now you can pick some up for less at La Senza. With crazy low prices on bras and panties and everything underwear-related, fill up those drawers during this semi-annual clearance sale and fee sexy with lace or satin.
Did you know that we have a La Senza Canada coupon page? If you didn't, now you do!
Check out the sale at La Senza Here
Expires: Not Provided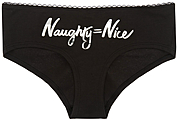 Since you can never have enough underwear and cotton panties, choose 8 as soon as you read these lines for only $30. Pick up these hipster panties to have people guessing if you are naughty, nice or both.
Make your partner's jaw drop by wearing this sparkle merry widow from the Hello Sugar collection for $29.75. If you're unfamiliar with this outstanding collection, it's a push up bra that adds up to two cup sizes. I own one of these bras myself and I have to admit that these babies work like a charm!
There are even bras for as low as $6.99 if you're looking for something basic, simple, and yet still pretty. The cotton bras are another great selection and are comfortable and fantastic. Check out this cotton plunge bra for only $6.99. There are also a couple of push up bras if you want a tad more oomph.
Don't miss out on your chance to fill up your drawers!