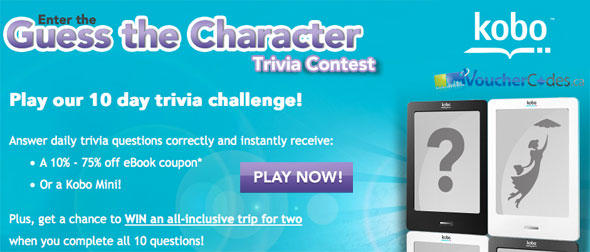 Discounts are great but what about up to 75% and even the chance to win an all-inclusive trip? During 10 days, Kobo is offering booklovers the chance to win every day by entering a contest and answering a daily trivia question.
Unfortunately, Quebec residents are excluded from entering this contest.
Enter Kobo's contest here
Expires: 3rd April, 2013
To give you an idea of the kind of trivia question that will be asked, below are the questions for the first two days.
Day 1: This Harvard symbologist is scheduled to make another appearance in Dan Brown's upcoming title, Inferno.
Robert Crais
Robert Langdon
Peter Solomon
Steve Berry
Day 2: Edward Anthony Masen is the human birth name of this vampire heartthrob and the star of Stephenie Meyer's blockbuster series.
Jacob Black
Carlisle Cullen
Edward Cullen
Sam Uley
And what about the prizes you may ask? Simply for participating in the contest, all entrants will be granted a coupon valued from 10% to a whopping 75% off on select eBooks. Every day, a Kobo Mini eReader will also be awarded randomly to 1 winner.
As for the grand prize, which is valued at $3,000, the winner will receive an all-inclusive trip for 2! Canadians will get to travel to the Dominican Republic, while their British counterparts will travel to Spain.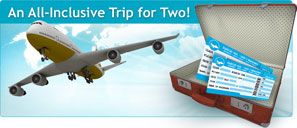 No worries if you happen to miss the contest, take a look at all of our other coupons for Kobo, namely our exclusive for 30% off bestsellers.
Share with us on Facebook the coupons that you win. Don't forget to participate every day until
April 3rd, 2013.