Keep the whole family warm by combining fashion and savings this winter season. Check out Sears' new winter wear selection and save up to 40% on items for men, women and kids. To sweeten this amazing deal even further, they also offer free shipping over $75. Be fashion-forward and frugal-friendly all in one shot.
Shop the collection at Sears Canada here
Expires: 29th November, 2012
Keep in mind that you can benefit from the free shipping offer for a while longer since it ends on the 20th of December. Don't worry if you haven't finalized that notorious Christmas list, you still have plenty of time.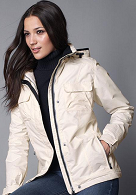 According to Kingston Herald, Canadians spend over $300 million yearly on common cold cures. Those pesky germ bugs can be avoided by keeping warm in the Nevada multi-season coat for $69.99. Isn't it cheaper to spend money on a coat than tons more on remedies for your recurrent cold?
You can pick up gloves, coats and even hats during this sensational winter sale. Are you ready for the snow? Comment below to let us know!