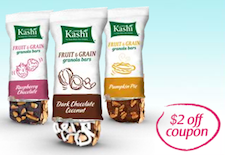 Kashi is giving away a $2 off coupon to convince customers to try their new fruit and grain granola bars (there have been loads of TV adverts on these products recently). The brand new flavours are raspberry chocolate, dark chocolate coconut, and pumpkin pie. Use the link below to go to their website and clcik on the get $2 off coupon link on their homepage, then once you enter your details they will mail out the coupon to your address.
→ Click here to get your Kashi coupon
I love their cereal with yogurt, it's awesome, but I have never tried their granola bars, maybe I will now.