Once again, the Vouchercodes.ca team worked hard to get the best offers available out there for our savvy shoppers community. And this time thanks to Beyond the Rack's participation, we were able to get you an exclusive invitation code to sign up to Beyondtherack.com plus get a $10 shopping credit. It;s the best deal on the net for this store right now.
If you would rather keep the credit for later and use it on the purchase of Christmas gifts–for example, there is no problem because the code is valid until the end of December. But if you spot something that you like at Beyond the Rack, don't wait too long to buy it because the products are available in limited quantities and normally go away quickly, it's part of the uniqueness of the website.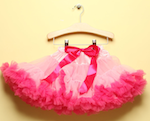 There was a really nice event at Beyond the Rack when I checked to write this blog post. They did have a sale on Princess Expressions tutu's and accessories that are super cute and a portion of the proceeds will benefit the CureSearch for Children's Cancer foundation.
That's a good way to help a charity while shopping at the same time. And even though it's still early for Christmas shopping, I don't know one little girl who wouldn't like to get a pink tutu as a gift!