If you're lucky enough to live in Toronto, then don't wait anymore and go shop at J.Crew's first Canadian store. It has just opened its doors last Thursday. Note that only the items from their women collections are available at the moment. But for all the others (like me;) who live too far to go shopping in Toronto, we can shop online at Jcrew.com and enjoy a flat shipping rate $9.95 in Canada.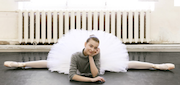 Shop the Jcrew 2011 Collection
I heard about J.Crew before but I never went to one of their stores so I was really curious to discover their collections. They have women, men, as well as kids collections. I literally fell in love with their classy style! Everything is so chic and the fabrics they use are quality ones which give a timeless touche to their clothes. Check their latest shooting of their cashmere collection. Filled with ballerinas in Saint Petersburg, it's simply sublime.
They sell apparel (including wedding dresses), accessories, handbags, jewelry, intimates, swimwear and shoes. Have a look at the classic but stunning model of Mona shoes. Some of you could be quite surprise with the price of J.Crew items that are a bit expensive, but they are suppose to be quality products. I don't mind paying more for classic style apparel as I know I'm going to wear them for a really long time. But I'm also going to regularly check their sale section to find beautiful clothes at discounted prices.
Find the latest Jcrew online coupons