Despite the many recent ups and downs in temperature (in Montreal where we're located at least), there's no denying the simple fact that Fall is almost here. As with any seasonal transition, this equates to a free for all shopping experience — while staying in accordance with your budget of course. Browse J. Crew's stylish Fall collection and save 25% off men's, women's and even kids' clothes!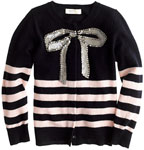 Though it might be because I just saw something similar on Pinterest (a lovely bow scarf on an adorable little girl), I have to admit that the girls' cashmere jeweled bow cardigan immediately caught my eye and I almost feel like ordering it now for when I have kids. Though it might certainly be slightly overpriced for a kids' cardigan, fact of the matter is that it features Italian cashmere and sometimes, quality just can't be beat — up to you to budget! Nevertheless, there are plenty of other great sweaters available such as the Caroline cardigan in heart stack or the heart-stripe one.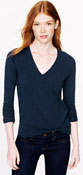 If you're a mommy on the go, you know that simplicity is the key to certain days, especially those spent grocery shopping with a stack of coupons in one hand all the while pushing a cart full of kids with the other (for those who have yet to have begun couponing, be sure to read all about just how much you can save here). With its semi-fitted style and long sleeves, the dream v-neck sweater is sure to make you want to come back and buy one in every color, which by the way, is available in: black, blue, caramel, cherry, aqua and coral. There's even the option of adding a monogram for just $10 for an added level of uniqueness.
As always, don't forget to check our