With all the Facebooking, Tweeting, Pinning, Blogging, etc., it's hard to remain creative with pictures uploaded to social media accounts. Find the exact image that best describes your mood or what you're trying to say with iStock and save 50% off all vector images during their one-day flash sale!
In case you read this too late and you miss the flash sale, be sure to grab our coupon to save 10% off iStock credit packs.
Save 50% off vector images at iStockPhoto
Expires: 22nd May, 2013
Defined as: "the use of geometric primitives such as points, lines, curves, and shape(s) or polygon(s), which are all based on mathematical expressions, to represent images in computer graphics", vector graphics are particularly useful for using images on the internet (i.g. blog posts, articles, etc.).
But you may be wondering what the advantages are of using these vector illustrations? The answer is simply that they require less space and are far more flexible than other image types (such as bitmap). The latter is especially important because as they are re-sized, vector images "remain smooth because your computer merely re-computes the coordinates of the points and adjusts the vector equation constants".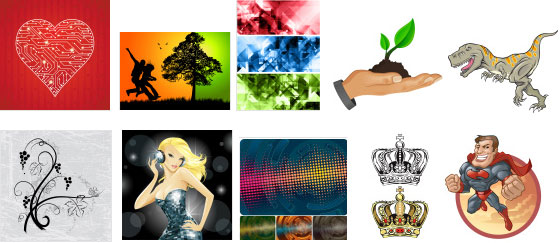 Top, left to right: big red heart, happy couple, abstract banners, hand holding fresh green sprout, & t-rex dinosaur.
Bottom, left to right: swirly grapes, DiscoDivas deluxe, abstract background, crown, & superhero.
Comment below with the images that catch your eye!