Creating a website can be a daunting task, especially for the complete beginners out there. Or you may even be wondering if your local business even needs one? The answer is absolutely! As an increasing number of individuals, most notably shoppers, are turning to the web. It has become a vital marketing strategy for anyone with a product or looking to promote themselves.
To help you save as much money as possible in the process, we have secured a VoucherCodes.ca Exclusive to save 75% off web hosting! However, in order to gain access to it, you need to input the code below into a restricted area of iPage's website, only accessible through the link below.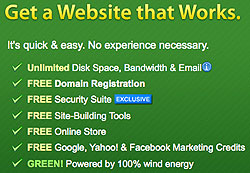 As much as this might sound like an ad campaign, for just $3.50 per month, you can get all of the features listed on the left and you can even host unlimited domains.
Not only that but they also have a huge list of of other included features and let's just say that when you take into consideration that it comes out to only $42 per year, then the promotion is indeed rather appealing.
These additional features relate to the website's marketing, designing, building and much more — all facets are definitely covered.
Please note that once you reach check-out, a couple of what iPage labels as "website essentials" will already be ticked but considering they cost extra, these are entirely left to your discretion and you're welcome to untick them.
Have you ever tried iPage? Share with us your experience!