The summer sale is still going on at Asos with discounts that go up to 50% but you can now save even more with our coupon code. That's right, copy and paste the below code when checking out at Asos and you will get an extra 10% off your purchase.
And don't worry about the selection of products available, I found 100 pages of dresses in my size. If you're at the office right now, I highly recommend you don't start looking at Asos until you get home because you might end up spending a lot of time on their site…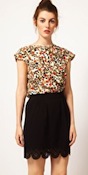 When it comes to offering good conditions to convince customers to shop online, Asos is probably one of the best stores that I know. They understood that offering free shipping and free returns on all orders is a minimum if you want to convince your audience.
And it seems to work because they have about 6.3 million registered users across the globe.
*For extra 10% off enter promo code EXTRA10 at checkout. Offer ends 01:00am PST Tuesday 28th August 2012. Valid on selected items only, up to a maximum of $850. Only one promo code can be used per order.