I can hardly contain my excitement as I write this and I'm pretty sure a good chunk of you will agree with me. Hockey is back and ready to go as the puck will be set for the first time this season over the weekend of January 19th, 2013. Who are you rooting for? It doesn't matter for now since we are all united in our love for hockey and savings! For a limited time, save 20% off select collections as well as a bonus $10 off orders of $100 or more.
Maybe for the first time ever, the Toronto Maple Leafs will win the playoffs. I know, it's a funny joke right?! Looking for a few more offers? Check out the Icejerseys coupon page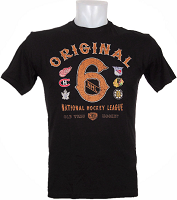 I'm in need of a new shirt to showcase my Habs pride since the vicious Michael Cammalleri trade last year and what better way to do so than with an item to commemorate the Original six. As they are the founding teams of the NHL and have been around for ages (the Habs just celebrated their centennial a few years ago), I have to admit that my dad drilled them into my head.
Are you in the same boat as me and want to celebrate the great of the greats (except the Leafs, but that's my Habs spirit kicking in)? Pick up this shirt for $20.80 after the instant rebate. Make sure to check out the shirts for the individual teams, like this Montreal Canadian's womens shirt for $40. My pride has no price tag!
Are you going to be watching the games? I'll be live at the Bell Center for the home opener between the Toronto Maple Leafs and the Montreal Canadians! We all know who's going to win.
Game on! Which team are you rooting for?