The long week-end is almost upon us but have you made any plans yet? It's not too late to take advantage of Hotels.com's best deal ever: until July 4th 2013, book any hotel and use the coupon below to save 13% and the best part is that you can travel by November 4th 2013!

As I mentioned in "What To Do For Canada Day 2013", Canada Place is the go-to spot in Vancouver. Experience the fun-filled activities for yourself and get a good night's sleep afterwards at the Coast Plaza Hotel & Suites where rooms start at $167.
Overlooking the English Bay, it is conveniently located in the West End of Vancouver, BC and features recreational activities (nearby boating, golfing, sailing etc.) along with a large variety of amenities and services.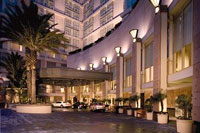 Would you rather venture to the United States instead during the long week-end? No problem! Hotels.com features an abundance of hotels, such as the Omni Lost Angeles at just $154 for those wanting to see LA for the first time (or for the nth time).
Situated in the heart of Lost Angeles, it's a couple of steps away from Chinatown, the Museum of Contemporary Art and a variety of other key locations.
Share with us below your plans for the long week-end!