Just a quick message to wish everyone a happy Canada Day! I hope you're all enjoying this day and making the best out of the festivities in your local area. It is a good occasion to celebrate with all our fellow Canadians and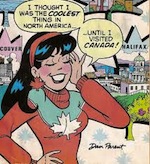 put away our differences because in the end we are all canucks! eh?
I'm personally going to spend the day with my entire family to celebrate my granddad's 84th birthday. I'm sure it's going to be a lot of fun! But don't worry I still took the time to check all the latest offers and coupons to make sure you wouldn't miss anything.
Have a great Canada day fellow Canadians and savvy shoppers!