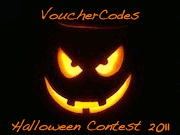 We have a Winner! After much deliberation we picked our favorite costume idea. Congratulations to AB who suggested a Double Occupancy costume for Steph. He's already online ordering it right now! Stay posted for pictures of him wearing it. Thanks to all the participants!
We are launching a new competition today! We know how much you like to participate in our contests and I think you're going to love this one even more because it is quite funny.
Halloween is coming pretty quickly and just like all the previous years, Stephen is having a lot of trouble finding an idea for a Halloween costume. That might be because as an Englishman, he never really celebrated Halloween when he was a kid. So he normally decides what he's going to wear the same day; right before leaving for the party.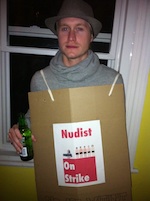 This is what he was wearing last year, he put it on 5 minutes before leaving and he didn't even keep it on the whole night! So this year we thought we could help him and ask our community to help him find the perfect Halloween costume.
Submit your costume idea and get a chance to win a $200 gift card for the store of your choice! Plus Stephen is going to be wear the costume for Halloween. So come on, try to come up with something funny because we'll see him wearing the costume the entire night! And don't worry we'll upload pictures as proof that he did it. Here are the rules for this contest.
How to participate:
1- Write a detailed description of your costume idea and leave it as a comment on this blog post
2- Make sure you leave a valid email address so that we can contact you if your idea is the winner
How to get bonus entries
– 'Like' our Halloween Contest post on Vouchercodes Facebook page (this get's you a second guest entry in the contest, which means you can enter another costume idea)
– Share it with your friends (no additional entry, but your friends may thank you if they win ;)
Rules
– Participants must be 18 years old and older.
– Canadian participants only.
– One entry per household (entrants can comment as many times as they like, but will only gain one entry for a comment on this page).
– Contest ends on Friday, October 21st (this gives us time to shop for costume accessories).
– Winner will be chosen by Marc and Anne on the following day and will be contacted by email (will not be shared and is not visible on this page) to get the personal information for shipping purposes (so pls don't leave any personal information apart from your name and email address in our comments section).
– Winner can choose a $200 gift card for the store of their choice as long as the store offers online shopping, gift cards and ships to Canada.
– Voucher Codes reserves the right to change all terms and conditions of the competition.
Good luck to everyone! And don't hesitate to write the most crazy Halloween costume ideas you've ever had!