How exciting is it to read the word "Guess" in conjunction with "sale"? For a limited time, enjoy free shipping on orders of $150 or more! The best part is that sale items have already been reduced by an additional 40%, meaning that deals are to be had at every turn.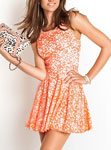 With summer being the season of weddings, some of you may be looking for the perfect dress to wear. Look no further as the Fit & Flare Dress would be absolutely perfect, even for any other events you may need to attend (think: baby shower, cocktail party, birthday etc.)
On top of having been featured in Nylon magazine, it features a lace and mess fit-and-flare look and a cutout lower back for just $56.99 instead of its regular price of $108.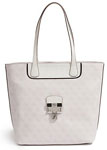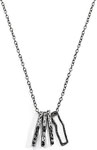 To be honest, once I laid my eyes on the Hewitt Carryall, I immediately knew that it would soon be joining my handbag collection. Originally priced at $110 and now reduced to $47.99 (an amazing price for a Guess handbag, I might add), it comes in white and the signature 4-G logo print exterior. As a frequent public transit user, the first thing I checked for was a top zipper closure and yes, it does have one!
While we're on the topic, who says that only women can accessorize? Guys, throw on a pair of dark jeans, light-colored t-shirt and the chain necklace with rings displayed on the right. Reduced to $9.99, it's sure to be a great conversation starter with the ladies and heck, you could even say that you made it yourself — your secret is safe with us!
Your opinion is valuable to us! Do you like the fashions featured in this post? Would you prefer a different style to be showcased?