Show off your savvy saving skills and visit La Senza to participate in their friends with benefits event! Usually, these events only happen in-store but you're in luck; you can now take advantage of the savings online. You can save up to 40% off your entire order and that's not including all the other specials going on right now.
If you'd rather shop in-store instead, head over to our La Senza Canada coupon page for the printable coupon.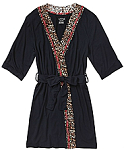 There's also a sale where you can get 7 cotton panties for $28–my favorite sale! There's also another one where you can get 3 cotton bras for $39.50. So let's do some quick math here:
If you were to take advantage of both deals, you're total would be $67.50. If you were to add more items to bring your total to $100 and use the codes or printable coupon provided above, you would be paying only $60 and be getting even more in the process. Events like this are amazing just for the crazy amount of things you can pick up!
I don't know about you guys, but I know where I'm heading this weekend!