We all have those days; the laid back ones where a t-shirt or a simple hoodie is more than acceptable as clothing when walking around your place. Who needs to get dressed up when you're relaxing? Whether you're shopping for casual wear for your home or looking to make a splash at your next casual Friday, check out the 50% off hoodies and tees deal that Threadless has going on right now.
From the bizarre to the beautiful, I challenge you to find a design that doesn't fit your style. I'm a geek at heart and have more than my fair share of wacky t-shirts that I bust out on a regular basis.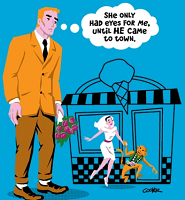 I also have fond memories of Curious George when I was younger so to combine the two in one central t-shirt is just pure genius. If you're odd like me, make sure to get this Monkey Around Issue shirt for 5.04 after the discount.
Shipping varies per order, so make sure to check that out before placing an order for your new pieces.