If you haven't been getting ready for Black Friday and Cyber Monday, which are both quickly approaching, don't wait any longer! If you've been looking longingly at our Under Armour Canada page in hopes of even more savings you're in luck, because they are finally here. Starting today and going until two of the best shopping days in November, you can enjoy free standard shipping on your orders, no minimum required!
Want to find out more about Black Friday and Cyber Monday? Check out our infographic here.
Shop at Under Armour Canada here
Expires: 1st January, 2013
Since shipping is free with orders of $75 or more, you're already saving $50 right off the bat!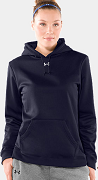 Check out the neat search functions they have as well. Your search can be refined based on temperature: from cold to boiling hot weather. You can even search by fit, ranging from loose to ultra-tight. I'm a sucker for hoodies and anything I can lounge in, so this simple team hoodie is perfect for those not-so-busy days. Pick one up for yourself for only $59.99.
Let me know if you have bought anything from Under Armour and what your favorite item is!