Allposters.ca are currently running a sale where hundreds of products are discounted down to 75% off their regular price. And among the many posters available they have some really nice vintage art ones that represent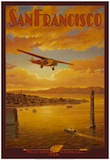 mostly old commercials for cities and airplane companies. I really love those because the drawings are simply amazing and they can fit in any room in the house.
I found some beautiful posters for less than $4 each, which is an excellent price for this kind of print. I chose two but I hesitated because the shipping was quite expensive until I realized that we have a free shipping coupon (we have so many of them that we sometimes forget ;). As it is valid only on orders of $20 or more, I added another poster to my cart and I was able to use the coupon. This means that I paid only $20.97 for 3 beautiful vintage posters that are going to be shipped directly to my place. This is what we call a good deal!
If for any reason you didn't have time to check this deal or you missed it, we also have an exclusive discount code for Allposters.ca that is valid until the end of June. It will allow all our users to save an extra 15% on any of their orders.