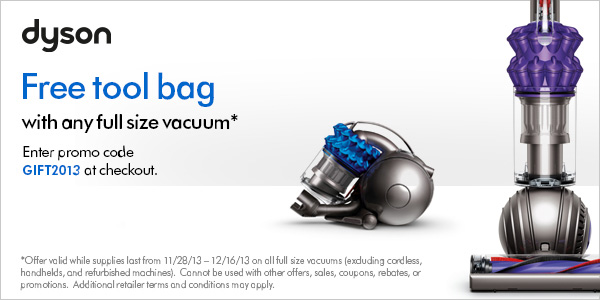 Dyson is one of those brands that oozes innovation, you know the kind that all other companies copy. I like to think of Dyson as the Apple of the vacuum market (and if you didn't know they are also starting to dominate the hot and cold fan market). It's not often that Dyson release a freebie or discount with their products, because they are so high-end. So when they do we like to shout about it, especially in the lead up to the holidays.
As the title suggests the offer Dyson is running is a promo code for customers to get a free tool bag with the purchase of absolutely any full size vacuum. The promo won't work on other products like their fans and heaters unfortunately. I'm not sure when Dyson stop guaranteeing shipping before the holidays, so if you want to take advantage of this offer it is an act now kind of deal. If you're reading this after the 16th, then please see our Dyson page for more Dyson offers and specials.
I'm in the process of trying to find out all the items that are in this free tool bag, I'll update this post as soon as I know. In the meantime…Enjoy.
Which Dyson do you own?