I really don't need an excuse to shop at David's tea, but this is the tiny push I need to go sooner rather than later! Right now, online and in-stores, when you spend $25 or more, you'll get a free 12oz jar of Golden Clover Honey. This honey boasts that it is gathered from the most respected bee yards of Quebec and is 100% pure (it's important to buy quality as MNN talks about here); and if you have never tried it, you don't know what you are missing!
If you plan on shopping at a retail store, you'll need a printable coupon which you can find here.
Visit David's tea and find out more
Expires: October 8th, 2012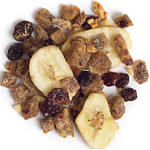 They've recently released their fall tea collection and one of the flavors Stephen and I got to try was the Banana Nut Bread one and it was heavenly. It was smooth and creamy and kind of resembled a milk shake (it's more of a latte tea, so you need to add milk). Another one I want to pick up next is the Toasted Marshmallow one; I mean, how good does that sound.
Shipping is free with orders over $50, or it's a flat fee of $5. Don't forget you get 3 free samples as well.