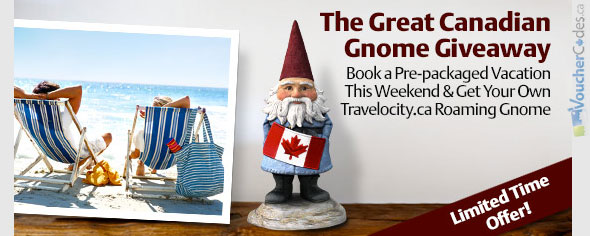 This is one of the coolest promotions I've seen this year! You could get your own gnome traveling companion by booking a pre-packaged vacation at Travelocity.ca this weekend. And it's even going to be a Canadian roaming gnome, just like the one in the picture!
This is how it works: book a pre-packaged vacation before October 1st, it must be $500 minimum per person and travel must be completed by March 31st 2013 to get a free roaming gnome with your order. No coupon code needs to be entered to redeem the offer, you can simply use the following link.
Book a pre-packaged vacation at Travelocity.ca
Expires: September 30th, 2012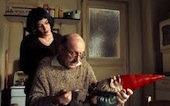 Have you seen the movie Amelie? This is certainly one of of my favourite movies ever. It is such a classic, I love this film! Do you remember the traveling gnome? That's where the Travelocity gnome idea came from I think.
If ever someone gets this roaming gnome from Travelocity, we would love to see a picture of him traveling somewhere around the world! That would be so much fun.
It's funny because Stephen has something similar although it's a pig called Sherlock. Check out the image below (he just met someone elses traveling stuffed toy).