Grab the new Samsung Galaxy S III at Costco and get a $75 cash card with your purchase. The deal just started yesterday and it should be available until the 25th of August.
This is pretty sweet because I'm currently looking to buy a new mobile phone (you should see mine, it's really an old school one ;). It's always a good thing to read reviews before buying new electronics, so here is a Samsung Galaxy review from cnet.com, one of my favorite review sites. I also read an interesting article on Mashable the other day about what the fuss is all about regarding Samsung which is a good read (there is a poll too).
Limited time offer. Subject to change without notice. See in-store for details. Some conditions apply. LTE is not available in all areas. Offer applicable on new eligible three-year voice and data activations.(…)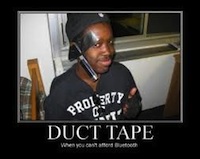 And here's one for everyone who cannot afford a Bluetooth headset! You know that most of the mobiles also come with earphones that also have a microphones right. It could be less painful than trying to remove this duct tape but it would be a lot less funny too.