Get ready for cool Fall days with a new hoodie from Abercrombie & Fitch! You can now get any hoodie for men and women for up to 50% off its regular price. I'm not sure when the sale is going to end so you might want to take a 5 minute break now to see if there's anything interesting.
The promotion is going on both in stores and online. Abercrombie & Fitch also release codes once in a while. If you would like to check if there are any available right now, head to our Abercrombie promotions page.
Shop at Abercrombie.ca now
Expires: not provided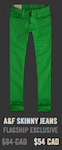 Another good piece of news is that there is also a sale on Abercrombie jeans right now. They have a lot of funky colors for jeggings and jeans both for men and women.
I love the look of green pants on me (like the ones in the image), but I'm not sure if I would really like it on a guy. For men reading this blog, let us know what do you think? If you don't already have one, would you buy a pair of green jeans?