Even if you're geared out and just waiting for Halloween to come so you can paint your face in wacky colors, you shouldn't miss this super deal going on at ELF Cosmetics. For a limited time, you can get 50% off everything in the Halloween category and, trust me ladies, the items there are good year-round.
If you're interested in something else a little bit spookier, make your way over to our ELF Cosmetics coupon page and check out the scary good deals there.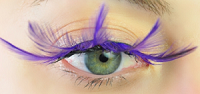 Honestly, if you buy these dramatic fake lashes at only $1.50, take a picture and send it to me so I can feature it on our Facebook page; you have guts if you can pull it off!
You know those moments when you have to look twice because you can't believe the price? I had a ton of those and I still don't believe the ridiculous discounts I saw. Let's start with pigment eyeshadow at just $1.50 after the discount; it's one of those deals where you can buy all of the colors offered!
Oh liquid eyeliner at just $0.50 with the code, where have you been all my life?
Shipping is a tad bit expensive at $14.95 but think of the savings! Now, excuse me while I go place my order for this crazy sale….