Don't miss out on this amazing deal from Aeropostale: for a limited time only, save 30% on all orders, even clearance items! In case you're new to this amazing store, they have a huge selection of clothing: from tops, bottoms, outerwear, dorm clothes, yoga items, and so on! In fact, I'm absolutely convinced that you could find something you like, so be sure to check it out!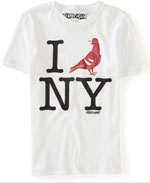 As soon as I read that the coupon is applicable to clearance items as well, I immediately clicked over to check it out and it definitely didn't disappoint. This "I love NY" t-shirt is only $5.99 (down from $19.50). After the coupon code, it ends up costing close to $4! But don't stop there, they have a wide selection of different clothing items on clearance: from shirts, pants, hats, and even jackets!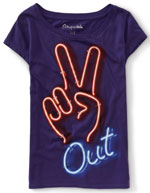 Keep in mind that several regular items have been discounted as well. Take this Peace Out Tee: though it was originally priced at $19.50, it's now $8.00. But with the coupon mentioned above, it's only $5.60!
Let us know below what you will be buying!