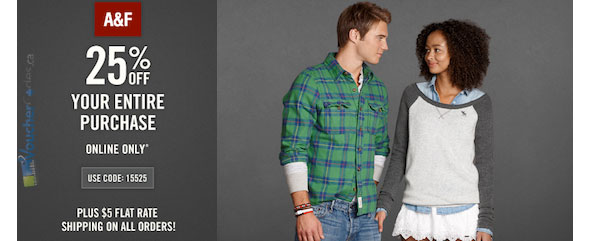 This weekend, both Abercrombie & Fitch and Hollister (they are part of the same company for those in the dark) are running a promotion where customers can get 25% off their online order. To redeem the offer, you will need to grab the appropriate code below and enter it at checkout. Standard shipping will also cost you only $5.
This coupon cannot be used on outerwear or redlines unfortunately. Both stores have updated their website with their winter collections, so you can start shopping for cozy and warm clothes if you want to get ready for the cold season.
They also have a lot of products available in the sale section if ever you're interested in shopping for beautiful summer dresses and cute tops. When selecting the clearance/sale section, you will need to select which category

of items you would like to browse in the menu on the left-hand side of the site. But remember that these codes won't work on any Redline sale item.
Also, I wanted to warn you about some of the pictures on Abercrombie and Fitch, as some of them are pretty intense. I was very careful with the choice that I made here on this post, because I thought that some people might find it a bit too sexy and too provocative.