We always talk about the little ones going back to school in September but we tend to forget that uni students go back to campus too. And as you might have guessed–or know first hand–this means a lot more expenses for parents than elementary grade students.
Right now Sears offer deals on back to school products but also on back to campus items. This includes special offers on furniture, electronics, clothing, kitchen accessories, bed products and more. If you want to get an extra discount on top of these offers, you can always use the following code for $5 off purchases of $50 or more.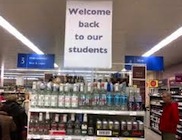 I've personally never lived on campus, but I'm sure I would have loved it. My friends who did said that it was loads of fun, but it could sometimes be hard to concentrate on studies. If those American 'going to uni' movies have any base in reality I can easily image how tough it would be to study in that kind of environment. For more Fall offers from Sears please refer to our Sears Canada discounts page.
Has anyone lived on a campus? Is it really like this photo suggests or is it better or worst?