The tiny green men from outer space have landed and have brought with them savings on games. Instead of doing experiments on humans with probes, they are giving us an alternative to refreshing Facebook every few minutes; 25% off digital download PC games. With a huge selection, from indie games to big named titles, there's something for everyone.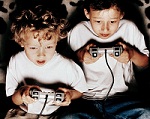 If you have never heard about this company–like me, they are a UK based company that sells PC games of all genres and sorts. The thing that sets them apart from other companies is that you can trade in your games via their "Capsule"; it's a special technology that allows you to trade in downloaded games that you are done with and get a credit for another game on their site—pretty nifty if you ask me.
Now, I'm a dedicated console gamer, but I still like to play on my PC every once in a while. I'm hooked on Skyrim at the moment and the new add-on Dawnguard is available, which caught my eye. There's also a sale on various games (see their hot deals section in their footer) and a bucket load of them are available at up to 75% off. Happy gaming!