Get ready, set….and shop! That special time of year for all of the Boxing Day sales are finally upon us and we are coming at you hard and fast with a Vouchercodes.ca exclusive that will make you wake up up and make you all jittery. Grind up some of the savings on our Coffee of Hawaii page and pick up 15% off your order plus free shipping.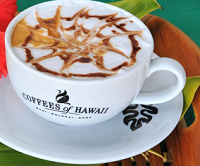 A little while back, I tried the Moloka'i Style Hawaiian Espresso after months of longingly staring at it. My taste buds have always had a soft spot for Hawaiian coffee and I eyed my coffee maker impatiently as it brewed my cup of awesomeness.
Though the suggested way of drinking it by pouring it as an espresso shot, I was daring and drank it like a regular cup of coffee. It's an understatement to say that I was impressed; its smooth flavor is everything you wish for in the ideal cup of coffee. In fact, it has now become a standard staple of my household and should become one of yours as well.
Go the extra mile by signing for a recurring delivery of this decadent blend. What are you waiting for?