With August almost upon us, it's time to start thinking about back to school outfits. Only this week-end, shop at Garage and save 30% off denim, fashion and accessories along with free shipping. Be sure to use the code below (also available on the Garage store page) to get a tote bag for just $5 on orders over $60 (regular value is close to $20).

Unleash your inner tigress with the tiger sweater for $24.43. With its comfortable feel and slim fit, it would be particularly appropriate at a school rally or any kind of team meeting to keep the energy up!
The Love/Hate is another great choice, especially paired with a nice pair of leggings or jean shorts. How cool would it have been for this sweater to be reversible with the 'love' and 'hate' interchanging? Share with us on Facebook your favorite Garage top!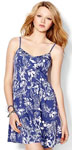 But since it is still summer, soak up the rays in the tropical bustier dress, which can also be worn with the crochet shrug in the evenings. While the dress features adjustable straps as well as a sexy and flirty look to it, the shrug encompasses a more casual and relaxed style with its open style.
What are your favorite styles from Garage?